Dating Advice I'd Give To My Younger Self

Written by Dating Expert and Coach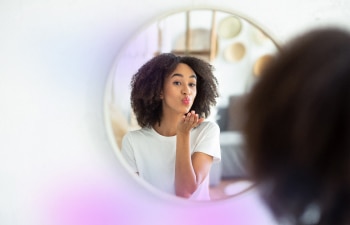 We've all heard the saying "if only I knew then what I know now." So many of our greatest dating lessons are learned through trial and error. If only we could avoid the pain and heartache it sometimes takes to finally find the right one.
As Flirtini's resident dating expert and coach, I have made it my mission to learn ALL of the tough dating lessons, whether through research, my clients, or my own personal experience. So, let me save you the time and energy by sharing the most important things I've learned along the way.
If I was to go back in time and give my younger self dating advice, it would be this:
Take time to fall in love with yourself first
At the end of the day, you are the only person that you will spend every day of your life with – really think about that! If you're spending every moment of everyday with yourself, isn't it worth building a relationship full of self-love?
If you truly want to create a deep and meaningful relationship with someone else, you need to first experience one with yourself. A deep sense of self-love builds unwavering confidence; when you value yourself, you won't let anyone into your life who doesn't love and value you just as much.
When self-love is abundant, you seek validation and approval from yourself, not others. This allows you to move through life with a greater sense of ease. Instead of being dependent on others your self-worth, you become self-sustaining and whole.
Learn how to be alone
It's the moments when you're alone with your thoughts that allow you to discover who you really are. This is when you uncover your biggest lessons and make your hardest decisions.
Being alone allows you to discover your true self and form an identity outside of your family, friends or a partner. This is when you learn how to create your own happiness and become the strong, open individual that you are. If you jump from partner to partner without space in-between, you miss out on important (and necessary) processes like healing, learning and growing.
Enjoy being single and use it as an opportunity to do what you want without having to think about or cater to others. Being present and soaking up these moments will prepare you for your next relationship, one in which you won't be dependent on your partner to make you happy. You will make yourself happy and your partner will become a great addition to your already awesome life.
Tell people how you need to be loved
Once you develop a deep sense of self-love, your confidence will empower you to speak your mind. Teach people how to love you by demonstrating how you love yourself. Know what you want, need and deserve, and communicate it to the important people in your life. Remember that people are not mind readers, so use you your actions and words to let them know explicitly. It's up to you to create and shape your life and love.
Focus on yourself
Don't be afraid to put dating on the backburner and invest in yourself, especially when you're young. Go to school. Travel and see as much of the world as you can. Build up savings. Create a life you love before trying to find love.
If you're worried that waiting might make you miss out on the right one, know this: there is no one right person for everyone. There are multiple "right ones" out there and someone who is happy is one of the most attractive and sought-after qualities in mature dating. Become someone who loves life and you will have no problem connecting with your dream partner when the time is right.
Take it from an expert; the best dating advice I can give you is to love yourself deeply. That energy is contagious and will naturally draw people who are on your vibe.