Spring Flings Are In
Written by Dating Expert and Coach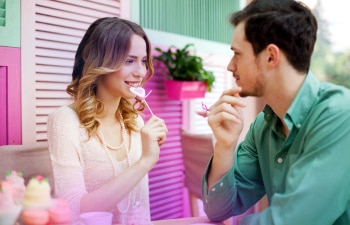 Spring is in the air and so is the allure of the "spring fling." But why is this? What is it about this season that makes us crave the attention and affection of a lover?
After a long winter of hibernating, spring arrives and the world begins to come alive. And along with it comes a sense of new beginnings, fresh starts and transformations. When you're pent up for months, it's only natural to want to get out and experience the pleasures of life again.
Spring is a beautiful time of year, one that symbolizes cleansing, renewal and rebirth.
With the end of one season and the beginning of another, we shed the old to create space for the new. This could be changing or advancing our careers, starting that art project or class you've been meaning to sign up for, stepping out of your comfort zone and trying something new, changing your appearance or letting go of something (or someone) that's been holding you back.
And with this shedding of layers comes a hunger to experience passion and feel desired and sexy again.
So, what is a spring fling?
A spring fling could be experiencing intense chemistry with someone. Or a sexy one-night stand. Or even something more involved like a friends-with-benefits situation. As long as the parameters of the relationship are mutually understood, "just for fun" can be a lot of fun! And if you're able to keep it just that — a good time with no feelings attached — it can be a great way to ignite your flirty side and reclaim your sexual energy after leaving a relationship or a period of celibacy.
Most of us have had negative experiences in relationships or dating at one point or another. Spring is the perfect time to come alive, reinvent yourself and experience the feeling of being sexy, sexual and desired. Is there anything you've always wanted to experience? This period of exploration and reinvention is an ideal time to experiment and enjoy the freedom of being single.
NOTE: A spring fling is not a good way to get the attention of someone that you have deep feelings for. If you truly want to build a relationship with someone, make sure that they are on the same page as you. Entering a "no strings attached" situation with someone you want an attachment with will only end in heartache, as the feelings you already have will deepen. If it's agreed that things aren't serious, the person that you're crushing on likely won't develop feelings and will keep you as a second-place option. If you truly desire a relationship with someone, be honest and forthcoming with what you want and save yourself from becoming a friend-with-benefits.