Tips to refresh your online dating profile
Written by Dating Expert and Coach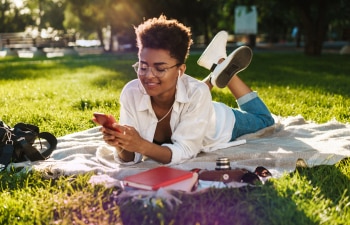 Spring is in the air, making it the perfect time for fresh starts and new beginnings! It's time to clear out the old and make room for the new. Whether you're looking for a spring fling or long-term love, having a quality online dating profile is key to attracting a suitable partner and the relationship you desire. It's time to dust off the old profile and give it an updated and attractive new look!
These are Flirtini's top tips to revamp your online dating profile:
Your Bio
Give potential matches a snapshot of who you are, how you live your life, and the relationship/ partner you desire.
Keep It Positive
The law of attraction teaches us that positive energy attracts positive energy. If you want to attract good energy it's important to keep your profile (and online dating experience) light and fun. When creating your bio, don't waste space talking about what you do not want. For example, no one under 6 feet tall, no hookups, don't message me if… Even if these are true it sets a negative tone and could turn off potential good matches. Focus on the positives by talking about who you are and what you're looking for.
Use the 30/70 Rule
Generally speaking, 30% of your bio should be about you and 70% should be about what you're looking for in a partner. This gives someone the opportunity to learn a bit about who you are, but saves plenty for you to talk about in person on a first date. Use the remaining 70% to describe your ideal partner by creating a picture of who they are, so potential matches can identify with what you want. You want them to be able to feel like they could be a good match for you.
Mention Your Most Positive Traits (30%)
Describe your best character traits and what you're passionate about. Choose 3-4 adjectives that best describe your personality and 2-3 things that you're passionate about. If you're not sure what to say, ask your friends for help describing you!
Describe Your Ideal Partner (70%)
Talk about your ideal partner's character traits by focusing on your values, goals, and morals. This will stand out and resonate with people who are similar to you. Avoid being too specific by listing things like physical features, hobbies, interests, career, or education.
Focusing on your values over superficial qualities will lead to more potential matches. Think of it this way: If you meet an amazing person who is highly compatible and would be a great match but they are an inch shorter than your height requirement, or they are two years older than your maximum age, or they have blonde hair instead of brown, would you really pass up the opportunity to get to know them??
Your Photos
It's best to show the real you so that the people you go on dates with are excited to see you and not disappointed by false impressions.
Choose at Least 6 Photos
Your first photo should be a headshot or selfie where you look happy and confident.
Your second photo should be a full body shot of you on a day when you felt happy.
Your third photo should be an action shot of you doing something that you love (sport, hobby, activity, etc).
Repeat for the next three images!
To Smile or Not to Smile
A smile feels warm and inviting, shows a positive personality, and instantly makes you more attractive. It's been found that the most popular profile pictures (especially for women) are headshots with genuine smiles. The key here is capturing a natural smile and not one that is forced or awkward. So, what's the trick? Have a friend take some photos of you. Have some fun with it, joke around, and see if they can catch you laughing. Another trick is to look away from the camera, count down from three, and then turn towards the camera and smile. Give it a try!
Action Shots are Great Conversations Starters
Showcase a photo or two of you doing something you love — you'll naturally have great energy and this will allow potential matches to see activities you enjoy doing something that they can relate to or bring up in conversation. It's a great way to talk about yourself without using words.
Photo tips
Ensure your photos are recent. A good rule of thumb is nothing older than three months.
Good lighting is key. Make sure to snap your pics in a well-lit area.
Include at least one, if not two full body shots. Attract people who are interested in the real you!
Keep the focus on you and avoid group shots.
Keep it natural and limit the use of filters.
Don't cover your face with sunglasses, a hat, your hair, a scarf, your pet cuddling, a mask, etc. This shows low confidence.
Try out these tips to maximize your online dating profile so you get quality matches and the most out of your online dating experience. Wishing you all the luck in the world!