Unveiling Flirtini's Newest Incognito Premium Feature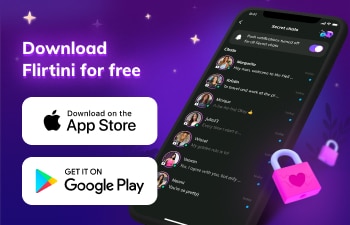 Unveiling Flirtini's Newest Incognito Premium Feature: Secret Chats for Enhancing Privacy and Customization
We are overjoyed to introduce our latest breakthrough: Secret Chats. Designed with user privacy at its core, this feature facilitates the relocation of chats to secret chats folder. Flirtini is dedicated to offering an enjoyable, safe, and customized experience, positioning Secret Chats as the next step in establishing the platform as the preferred choice for singles.
Research by the Flirtini team has shown that privacy is of utmost importance for users in the world of online dating. Through our range of incognito settings, users can move their chats to a secure folder now, ensuring their conversations remain private and neatly organized. Moreover, Face ID and password protection options provide an extra layer of security when accessing the app, giving users peace of mind as they explore the dating scene. By altering the app icon and personalizing notifications, users can tailor the app to match their unique style and preferences. These customization options not only elevate the Flirtini experience but also allow users to maintain discretion when using the app in public or shared spaces.
At Flirtini, we firmly believe that an exceptional dating experience must emphasize user privacy and personalization. The introduction of Discreet Dialogues marks another step towards solidifying our platform's standing as a leader in the dating app industry.
Ready to take charge of your Flirtini journey? Update your app today and dive into the Incognito features designed with you in mind! For more information on Flirtini's innovative dating platform and its selection of features, download the app now!